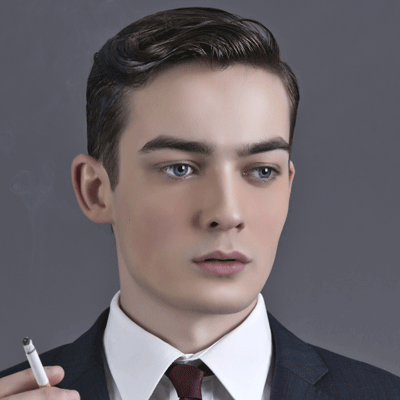 The best assets of women are her personality, her beautiful face and body, her fashion for clothing, but most especially the hairstyle she carries. The hairstyle accentuates the beautiful face of a woman, and the hairstyle should suit the woman's charm. There are various hairstyles in the modern era that modern women use currently, but surprisingly vintage hairstyles from the 20's up to the 80's are making a comeback. Vintage hairstyles may be old, but it has the classic, timeless looks that can still be used today. Here are several vintage hairstyles that is trending recently
The Bob
              The bob is hairstyle used best for those with short hair. It's a 20's look when most when said goodbye to the long Victorian locks and opened the era for the short hair styles. The woman's hair is typically cut straight around the head at about their jaw-level, often accompanied with a short bangs at the front. It is suitable to most women and easy to maintain. Classic as it may be, it surely stays a "fresh" look every time.
The Wavy Hair
                The 1930's is considered as the Golden Era of Hollywood. As actresses styled their hair in a wavy manner, so did the masses. The wavy hair is as elegant as it can get. Wavy hair is easily achieved at home when you use rollers. This hairdo has made its comeback presently as it is being used by several famous actors and singers.
Ponytail
                While hairstyles for men from the 30's to 50's were mostly short hair, the ponytail has made it through. It became famous among teenagers as it was seen on the early versions of Barbie. The style was simple, but also elegant. You simply tie your hair back, usually it was tied with a scarf. Today, this hairstyle is still very much popular and commonly used.
Long Hair and Afro
                The 70's is marked the era of Hippies. Hairstyles were influenced by the hippies as they wore head bands and accessories with their simple long, shiny hair. The Afro was also very popular among African-American women in this era. These hairstyles is still very famous until today
                Whatever hairstyle you may choose, it should complement your beautiful facial structure and your pleasing personality. You may also try to ask for recommendations from professional hairstylists as to what hairstyle is best suited for you. The pomade hairstyle of your choosing should make a good and lasting first impression.
It is important that when we are planning to get a haircut that we should already know what kind of design or cut that we are going to have so that we would not waste a lot of time and so that we can be sure about the haircut that we are going to have. It is also important that we should not take our haircut for granted as it is something that would surely affect our appearance. It is important that we should make sure that we should know that the person who is going to give us the haircut would be able to do a decent job and would be able to give us a haircut that we would want.
Know how to get the best classic Hairstyle? There are a lot of different kinds of haircuts nowadays as it is all depending to the style of the person. Haircuts that would have a vintage look are now becoming a lot more popular as people would love to have the vintage look as it can make them look more classy and would also be able to give them a formal look. Vintage looks never goes out of style and you are able to use it in any kind of fashion as it would still look great.
There are barbers who have specific qualifications and if you want to have a haircut that would be too complicated or not common then it would be best if you would be able to go to an experienced barber so that you would be able to get the haircut that you would want. You can do some research in order for you to be able to know if there are any good barbers or barber shops that are skilled in giving vintage haircuts to people.
You can use the internet to do your research as nearly everything is on the internet. You could look for barbershops near your area so that you can be sure where to go and would know that they are able to get you the vintage haircut that you desire. There are a lot of people who finds vintage haircuts attractive and having a vintage haircut would surely be able to help you get the attention that you need from the person that you like or if you would want to impress someone. It is important that you should also be happy with the haircut that you are going to get. Read about pomade from our site.
Whether it's natural instinct or a natural obsession, men have love for old things and other things in the past. You can clearly see this through their reluctant attitude to accept changes because men are naturally conservative. They like things from the past and they even go out on their way to bring old things back to life by doing restoration projects. When it comes to fashion, this thing as you will find is no exception. Undeniably, the 70's and times earlier have had some serious hairstyles that have left their mark in history. Some of the greatest classic hairstyles for men have been worn by some of the most popular people that ever walked the earth.
Now when it comes to classic hairstyle for men, one of the things you will find today is that more and more people from the new age are becoming interested in these things that came from the past. It's like people are trying to bring back some old school flavor into the new school era. And who can blame them? Vintage Hairstyle, for some people today may be old but those that can appreciate their beauty and how it would make you manlier in today's age, it's something that everybody would simply dig.
As far as looking for vintage hairstyles for men that would look good on you is your concern, you will find that there are many sources where you will be able to find the details and pieces of information you seek. Libraries usually have vast collections of magazines in all categories and you will most definitely find some that contain the information about a particular vintage hairstyle you are looking for. Alternately, you can check out the internet for more information about these kinds of things.
The internet is considered to be a place where information is most dense. There are many sites, forums, blogs and articles that are related to vintage hairstyles for men. If you search thoroughly, you will even find some articles in websites that even feature pictures of the different kinds of the most popular classic hairstyle during a particular decade. Some articles are even more detailed as they contain all the kinds of classic hairstyles for women in a decade via a per year basis. You see, all you really need to do is do your research carefully and you will be able to find what you are looking for in a much easier manner.